Director
Marko Đurić, Director of the Office for Kosovo and Metohija, Government of the Republic of Serbia.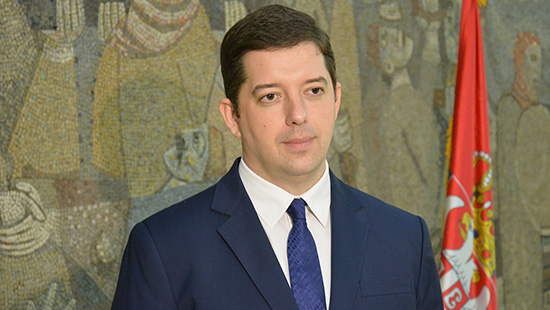 Marko Đurić was born in 1983 in Belgrade. Now a graduate lawyer, he demonstrated a prominent level of social awareness already in his student days, by being involved in student organizations and initiating and organizing numerous lectures, international panel discussions and other public events. Between 2003 and 2007 he regularly triumphed at traditional debate competitions organized by the School of Law of the Belgrade University. He is currently attaining a postgraduate master degree in Sustainable Development and Ecology at the Faculty of Political Science of the University of Belgrade.
Since 2011, he has been engaged as a researcher at the Institute of Political Studies.
After Tomislav Nikolić's victory in presidential elections, he was appointed Foreign Policy Advisor to the President of the Republic of Serbia.
As such, he was responsible for coordinating the foreign policy team of the President of the Republic and conducting daily diplomatic communication and strategic policy planning, including the activities of top state officials in issues pertaining to Kosovo and Metohija, and preparation of the official governmental platform for the negotiations with the Provisional Institutions of Self-Government in Priština, whereby was articulated the Community of Serbian Municipalities.
Since May 2014, following constitution of the Government under Prime Minister Aleksandar Vučić, he assumed the post of Director of the Office for Kosovo and Metohija. In addition, Mr. Đurić heads the team for negotiations between Belgrade and Priština, and is also the Head of the Negotiating Group for Chapter 35 in Serbia's negotiations on EU accession.
Mr. Đurić has been a member of the Serbian Progressive Party (SNS) since its founding in 2008 and to date continuous to perform the most responsible duties, including being the youngest member of the Presidency of the SNS.
Fluent in English and Hebrew, and has fair French language skills.